In 2007, Cody and I went on a cruise to Jamaica and Grand Cayman.
It was A.MAZ.ING. Ever since then, anytime anyone talks about cruises (or we have bacon...I ate so much bacon on that trip. Oh goodness I love bacon.), or goes on one (like my parents just did!) I get super jealous and just want to go again! I don't care where it goes, I just want to be on that boat and sailing off into the sunset.
I decided to start a cruise fund. I took one of these
and decorated it with scrapbook paper and ribbon. I cut a hole into the top and with my faaaabulous Wishblade, cut out some vinyl that says "Cruise Fund." Then I made a little flower out of leftover paper and a button...that I cut off one of Cody's white shirts...Promise he said it was ok! (After cutting it off I found a TON of yellow buttons that I bought last year...Oh well. I like the white one)
Then I took all our extra change and put it in there! (Actually, Chloe did that part. She LOVED it! It took quite some time....She did one coin at a time, but she had so much fun and I loved watching her improve her hand-eye-coordination!) I am so excited to use it someday!!!
*Note. Do not let said child play with said fund unsupervised, even if you think it's fine because all the money is put away so said child cannot choke. She will pull off vinyl and change it from Cruise Fund to C-random lines-uise Fund.
I"m linking this to: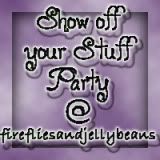 ">
">
">