When my sister, Catheryn, died, I got most of her clothes. She had a lot of t-shirts that I recieved.
When Cody and I were dating, I basically only wore t-shirts. I loved them and thought they looked so cute. Apparently, he didn't think the same thing! He told me that he didn't know any girls that only wore t-shirts and I should dress up more. Too bad I didn't have anything to wear! I went and spent a LOT of money (remember, we were dating, so I was really trying to impress him.) So by the time I got all of Catheryn's shirts, I didn't wear t-shirts that often anymore. I still wore them occasionally, and to sleep in or work out in, but not very often. They took up permanent residence under my bed.
Early in 2009, I talked to my sister, Amy, about making a quilt for my mom for Christmas, using Catheryn's shirts. My mom is the Quilting Queen-seriously, A.MAZ.ING. at quilting. She's won like a bajillion first places.- and has made lots of t-shirt quilts for people. We wanted to make one for her out of the shirts. We really didn't want to get rid of them, and their home under my bed was just sad. We thought this was the perfect choice.
I gave Amy the job of making the quilt since I was in Idaho and had no idea how to even begin a job like this. She had more friends that could help her and I would be great at giving support. However, Amy is a very busy lady!!! By October, we hadn't made any progress. However I really needed a new project, so it was perfect! Also very luckily, by then I was living with Cody's mom (Who is a sewing machine! Also seriously amazing) and asked her if she'd help me. I was so grateful she said yes!
Also, one of my mom's best friends, Carol, is an amazing quilter. I e-mailed her and told her about our secret gift. She was amazing and so supportive. She gave us great advice and told us all the things we needed to buy and told us that if we couldn't finish it, to mail it to her and she'd help!!
How am I so blessed to know so many amazing women?? Carol also said it would be more like a comforter than a quilt, which is perfect because it "Comforts your mother.......I love that word." She's so cute.
So with Tami's help, I set out to make this comforter. She helped me SO much (sometimes even just doing it herself...which was SO nice and made it look SO much better!!!) and was honestly the reason it was completed. I don't think I ever would've been able to do it without her. I KNOW I wouldn't have. I even broke TWO of her sewing machine needles. Not one. Two. She didn't even get mad. She just got out another one and let me break it. I let her finish the comforter after I had broken two....She only had one left.
Finally, it was finshed.
Catheryn had a favorite blanket that we used as the back (I'm so glad Amy remembered this blanket, because I never would've thought of it! It was a great idea) and then we sewed the shirts onto fleece squares, and then sewed the squares onto the flannel fabric.
I was pretty proud of the final product. I folded it up with one of Catheryn's Paris scarves, and mailed it to my mom for Christmas. She thought I had it professionally done (isn't that so nice?) :). Thank you so much Tami, Amy, and Carol for all your help! I NEVER could've done it without you all!
I'm linking this to: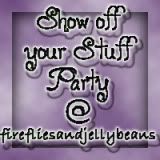 ">